Unveiling of the Milutin Milanković monument
26.06.2017.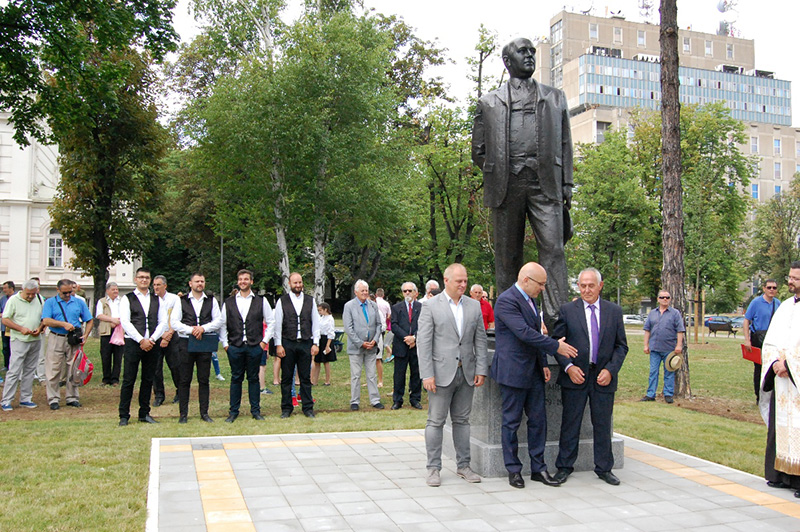 Memorial to the great Serbian scientist Milutin Milanković was unveiled today in the city park which carries his name in Vračar. It was unveiled by the city manager Goran Vesić, the minister of culture and information Vladan Vukosavljević and the president of the "Milutin Milanković" association Slavko Maksimović. Milutin Milanković was a serbian mathematician, geophysicist, civil engineer, climatologist and astronomer. World renowned scientist. Along with Pupin and Tesla he makes the most significant serbian inventors trilogy. Vukosavljević pointed out that through raising of this memorial the republic of Serbia and it's people, as well as the city of Belgrade had somewhat paid tribute to him an all his hard work. "This is just a small pebble in a vast mosaic of what the serbian people owe to this great man, scientist and patriot. He lived in a turbulent times in which he had shown his high ethical consciousness. He was ahead of his time in everything that he did", said Vukosavljević..!
"I think that after this event serbian public should get more familiar with Milanković, get more interested in his work and all that he did for Serbia nad its science", said the president of the "Milutin Milanković" asociation Slavko Maksimović.

According tho NASA's choice he is one of ten greatest scientists of all time in the world. He was the first serbian doctor of technical science. He reformed Julian calendar, and is well known for his theory on ice age cycles.

"We all know about the Milutin Milanković memorial room in Hungarian academy of science and about space dedicated to him in royal academy in Stockholm, and we have just started dedicating memorials to him here in Belgrade as well as his birthplace in Dalj. "I'm certain that this century will be one of Milutin Milanković", says the manager of Center for culture and science in Dalj Đorđe Nešić.

Minister of culture and information Vladan Vukosavljević said that this is the great day for our capital city, the day in which the memorial to this great Serbian and world scientist was unveiled.

"Memory of Milanković and his vast scientific contribution to the academic society has to reamin the object of contionuous study, his work has to be kept alive through scientific seminars, expert papers and scientific workshops, and in many other ways, this is just the beginig of the tribute we started to pay to this great man", said Vukosavljević.

"Milutin Milanković" association started an initiative eight years ago for raising a memorial. Competition has been made public in 2012. and it attracted more than 40 conceptual soutions.

Monument of Milanković was unveiled in the city park in Vračar which carries his name. City leaders say that it should also be accompanied with a monument to Mihailo Pupin soon.